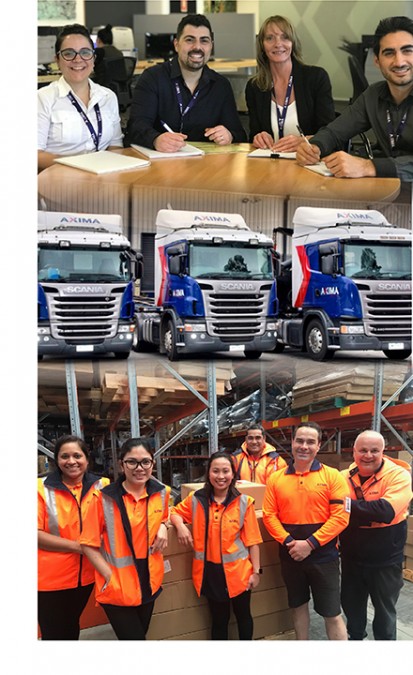 Our leaders, managers and team members are focused on one very clear mission at AXIMA:
To deliver our clients with supply chain success.
By working together as a team to deliver our clients with success, we also ensure success for our business and for our people.
To support our team, we maintain a positive workplace culture and are guided by our company values:
Integrity - We believe in doing the right thing
Respect - We treat others just like how we expect to be treated
Family - We take care of each other
Passion - We are driven to achieve results
Dedication - We deliver our promise
Safety - We take responsibility for the safety of ourselves, and the people around us
Teamwork - We progress together in unity
Leadership - We inspire ourselves and others to do better
In return for working as a team to deliver on our mission, we support our people in the following ways...
Health & Safety: We have a vision to ensure that all our people, visitors and contractors go home safely at the end of each workday. Our focus is simple; 'look after yourself and those around you'.
Rewards & Recognition: We recognise when our people work in a way that is aligned with our brand, provide exceptional service to our clients and make great decisions and calls around H&S.
Training & Development: We offer a range of training and development opportunities (formal, coaching and on the job) and we actively encourage internal transfers and promotions; along with work on projects.
Employee Assistance Programme: We care about our people and their families, and provide a free, independent and confidential counselling service for team members to assist dealing with any issues they may have.
Come and be part of our awesome team!